GETTING PAID TASTES PRETTY GOOD
The Yerbaé Ambassador Program is a commission-based program where you earn on each new customer you refer to Yerbaé.com. Just use your unique ambassador code or referral link. If you're passionate about Yerbaé, want to help others experience healthier energy beverages, and get rewarded for doing it, give it thought. We'd love to have you join the Yerbaé family.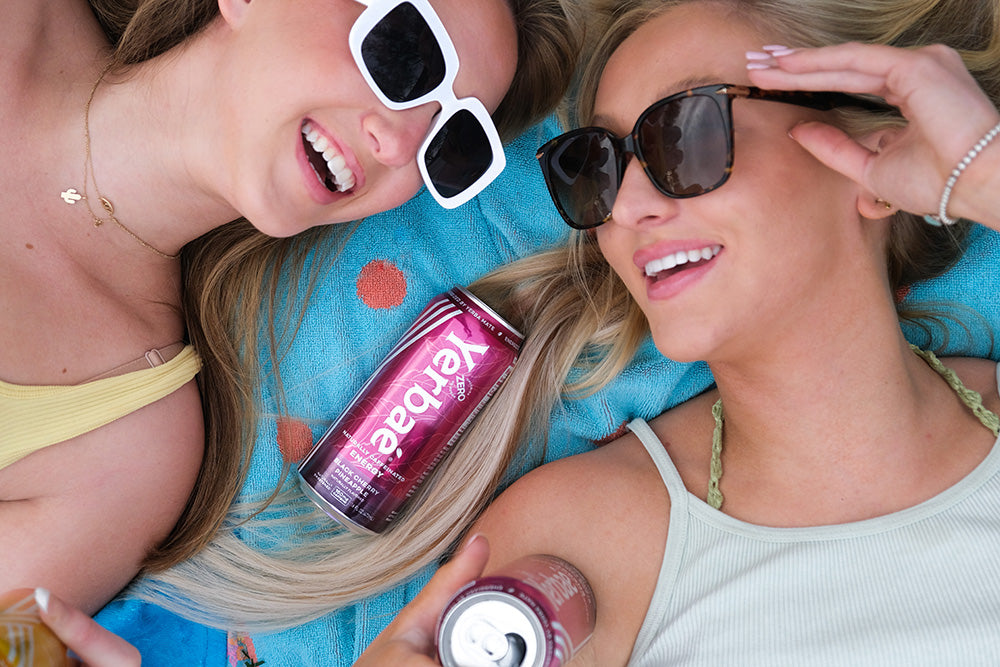 Why become a Yerbaé Ambassador?
Grow your income just for helping the people around you improve their wellness. It's something you probably already do anyway.
There's no cap on commissions. Earn every time someone you referred makes a purchase.
Be the first to learn about and try new products, with a chance to earn additional commission.
Receive promotional pricing on all products on Yerbae.com.
Partner with an innovative, first-of-its-kind, health-focussed brand, that's unmatched in quality and product integrity.
IT'S EASY. HERE'S HOW IT WORKS.
Sign up for our Ambassador program using the "Get Started" button. Enter your information in all the required fields.
Receive an exclusive Ambassador Welcome Kit after making five commissioned sales.

We will provide you with a unique link and code that you can share with your community, giving them 15% off a first order at Yerbae.com.

For every sale referred by you, you will earn 15% base commission, with the potential to earn more on new and promotional products.
FAQs
What is a Yerbaé Ambassador?
Yerbae Ambassadors are people who are passionate about Yerbae, the products we make and helping others. Ambassadors help us spread the word about living healthy, being active, displaying a can-do attitude, and show their love of Yerbae on their social media channels and blogs (and earn extra cash while doing it!). Our Yerbae Ambassadors are leaders in their communities, active on social media, and are passionate about health and well-being.
What is the Yerbaé Ambassador program?
Our Ambassador program is a commission-based referral program where Ambassadors earn a commission on every sale they refer to Yerbae.com. An Ambassador's goal is to introduce new customers to Yerbaé products and incentivize first-time purchases. When a customer makes a purchase on Yerbae.com using your unique Ambassador code or referral link, you earn a percentage of their sale! The more you refer, the more you earn!
What do you get for becoming a Yerbaé Ambassador?
By becoming an Yerbaé Ambassador, you're joining our family of dedicated Yerbaé advocates who see the difference Yerbaé makes in their life! This means you'll have the chance to participate in merchandise and product giveaways, plus receive a custom referral code offering your community 20% off of first time orders on Yerbae.com. You earn 20% base commission on any sales you refer with the potential to earn additional incentives like free product, higher commission rates, and Yerbae swag!
What is an Ambassador Welcome Kit and when do I receive one?
A welcome kit is our gift to you for helping us spread the word about Yerbaé and inspiring your friends and followers to try us out! The contents of the welcome kit are subject to change but we typically send a bundle of our most popular drinks. We will send you your welcome kit once you make five commissioned sales. Ambassador welcome kits are typically shipped once a week. Please allow 2-3 weeks for delivery of your Ambassador Welcome Kit upon completion of your first five referral sales. You must enter a valid mailing address and we cannot ship to PO Boxes.
What are the rules of the Yerbaé Ambassador program?
● You must be 19 years of age to join the program.
● Your code is to be used ONLY on your own social platforms and within your own community. If you comment on any of Yerbae's owned platforms promoting your ambassador code, (including but not limited to Yerbaé's Facebook, Instagram, and Twitter accounts), you will be immediately removed from the program.
● All content featuring Yerbaé products must meet our brand standards. Do not include any suggestive content or language, political or religious points of view, or drugs/alcohol in images featuring Yerbaé product. We do not allow trademark bidding or direct linking. We do not allow downloadable software partners to join our program.
● We do not allow you to share your unique promo code on coupon sites- if we find your promo code on a site we will notify you as this is a cause for immediate removal from the program.
● Remember that the purpose of the Ambassador program is to refer new customers and to help spread the word about Yerbaé. Yes, the promo code is an important driver of sales, however it is equally as important for your community to hear from you about why you'd recommend Yerbaé.
● Be kind and respectful to other Yerbaé Ambassadors
● We do allow email marketing, but all partners must be Can-SPAM / GDPR compliant and must contact us prior to running these for suppression lists. Any ambassador that doesn't reach out first is considered to be in violation of our terms and conditions.
● Violation of any of the aforementioned terms will result in your immediate removal from our Ambassador program.
YOU'RE ALMOST THERE, FUTURE AMBASSADOR!
Just fill out this form and you're in.